Italy is a country of unique regions, stitched together in a patchwork of individual histories and cultures. Nowhere is this more evident than Sicily, both a region and an island, and so different from mainland Italy from its dialect to its cuisine that it sometimes feels like a separate country altogether.
(Photo by Concierge in Italy via Flickr)
Take the island's famous pastries and desserts, dramatically different from those in the rest of Italy and influenced by Sicily's millenia of contact with seafaring cultures from across the globe. Almonds, oranges, and spices arrived from the Middle East and the Orient, cocoa beans from the New World, and Sicily's own shepherds provided the fresh ricotta that the island's nuns used to develop some of Europe's most luscious pastries.
(Photo by Concierge in Italy via Flickr)
There are, of course, similarities between Sicily and the rest of Italy, and one of the most important is the dominance of the local, family-run business. An excellent example is Maria Grammatico's famed pasticceria, located in the hilltop town of Erice on Sicily's western coast. One of six children, Maria entered a convent at the age of 11 to escape the hardships of post-war Sicily in the 1940's, and there she learned the art of working in almond paste and marzipan.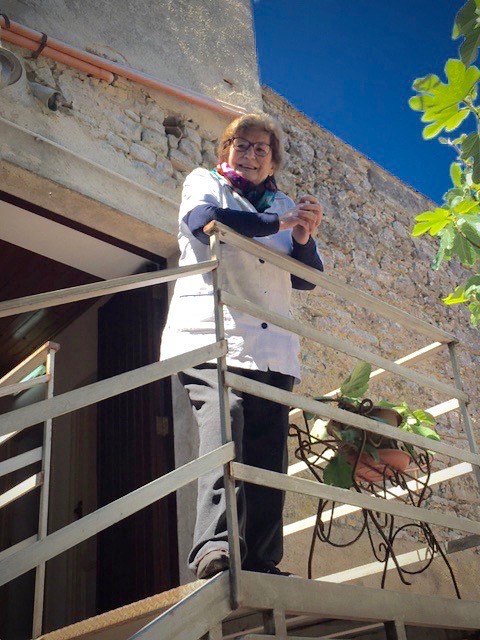 (Photo by Concierge in Italy via Flickr)
Sicilian convents have long been famous for their almond-based sweets and pastries, and Maria soon learned how to make the intricate "pasticcini" and marzipan fruit and figures so beloved on the island. She left the convent in 1963, and opened her own pastry shop, La Pasticceria di Maria Grammatico, 15 years later. Though the nuns were less than pleased with their new competitor, Maria was able to put to use the techniques she had spent years mastering and reproduce some of the most traditional sweets, while at the same time developing her own specialties.
(Photo by Concierge in Italy via Flickr)
La Pasticceria di Maria Grammatico is still one of the most famous in Sicily, heralded for using only locally-produced ingredients and Sicilian almonds from Avola to make her pastries, jams, and marzipan. In addition to her marzipan creations, she is known for her torrone (a type of traditional nougat), Seni di Vergine ("Virgin's Breasts" with sugar, almonds, and citrus jam), and Paste da Risposto (decorated with handmade flowers). She still works in the shop, greeting customers with a warm smile and samples of her famous pasticcini. Brian and Maria were enjoying a café and Genovese (custard-filled pastry) on the terrace of her shop a few days ago when she called out to greet them from her balcony.
(Photo by Concierge in Italy via Flickr)
(Photo by Concierge in Italy via Flickr)